Updated Feb. 3, 2016 –


Donald Trump makes a valid point about Ted Cruz's campaign tactics in Iowa.
Sen. Cruz's dirty tricks influenced the election results just when the U.S. needs Mr. Trump's solutions the most.
1. You might recall Sen. Cruz sent that last-minute mailer labeled as an official notice to religious voters that they were in violation of Iowa law. Later, CNN reported Iowa's secretary of state rips Cruz over campaign mailer.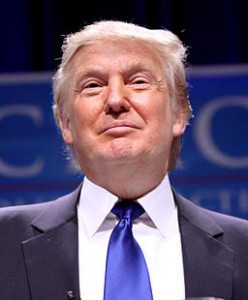 You'll note Mr. Cruz disgracefully tried to justify sending the bogus mailer.
2. Sen. Cruz's supporters told participants at 1500 caucuses statewide that Dr. Ben Carson had withdrawn from the race and Cruz's Iowa co-chair Rep. Steve King falsely stated that Carson was 'out'.
Mr. Cruz blamed CNN as a source for the claim. But CNN's initial report merely said Dr. Carson was taking a break, not that he was withdrawing.
After the election, Sen. Cruz did apologize for the lie. But it was too late. The damage to Mr. Trump and Dr. Carson was done.
Sen. Cruz has not taken disciplinary action on his staff. Such behavior by the Cruz camp does not reflect Christian-like behavior, as he claims to be.
On a personal note at a store recently, I overheard a middle-aged woman shouting on her cell phone while marching down an aisle.
The woman exclaimed: "Forget about that! Trump will get in there and clean the place out!"
It gave me my biggest laugh of the week. I had no idea what the woman and the other person were discussing, but I wasn't surprised by her assertion.
Polls show many Americans are angry and frustrated – from their skyrocketing health insurance premiums and their inability to keep their doctors under ObamaCare – to stagnant wages, the $19-trillion federal debt, immigration and terrorism, and other dysfunctional foreign policies.
So as I thought about the humorous store incident, other developments and historical events, I started thinking about the 2016 presidential election.
My conclusion: Donald Trump holds the only ticket to success for our great nation.
"What?" you incredulously ask.
Agreed, Mr. Trump has been brash. At times, I wish he'd tone down the rhetoric.
However, this also means he won't suffer the same fate as former Gov. Mitt Romney, an astute businessman, but too tepid in responding to disingenuous political attacks. Although leading President Barack Obama by 5 percentage points in the June 2012 polls, Mr. Romney lost because he failed to respond to any attacks in the ensuing months.
In addition, Mr. Romney was ostensibly defensive about his wealth. Not Mr. Trump. He sees it as a marketing strength and is known for his acerbic responses to political attacks. He crushes his opponents.
"It has been said that politics is the second oldest profession. I have learned that it bears a striking resemblance to the first."

-Ronald Reagan
With the overwhelming problems facing the U.S. and world, the campaigns demonstrate a lot of voters would rather cope with occasional dubious behavior from a patriotic American than a demagogic socialist as president.
They feel any of the Republican candidates would be preferable over Sen. Bernie Sanders, Sec. Hillary Clinton or any other Democrat should she be indicted.
But not necessarily in an order of priorities, here are reasons that have led to my sense of Mr. Trump's odds for success:
1. He's right on the salient issues. There are too many global economic geopolitical issues for any of the candidates to manage except for Mr. Trump. 
He was the first to talk about the dangerous immigration policies of the Obama Administration.
A temporary ban on immigrants is necessary. So is a wall to separate the U.S. from the drug traffickers and illegal immigrants.
The media doesn't seem to notice several European countries, such as Sweden and the UK, are changing their tunes on Muslim immigrants. Those immigrants are straining the countries' budgets.
Many immigrant have abused German women — just Google the keywords, "German women hurt by refugees," and you'll see 3 million search results.
He's built a financial empire in New York City – the world's No. 1 financial center. Not the least of considerations, he has a better sense of knowing how to grow the economy.
Consider the expert opinion of a widely published economist, Peter Morici, Ph.D. In an Op-Ed, "Why Trump's Got It Right on Trade" dated Jan. 28, 2016, Dr. Morici wrote:
"Donald Trump has been savaged by economists and media aligned with establishment candidates for tough positions on trade — including a 45 percent tariff on imports to force China to the negotiating table," wrote the economist. "Actually, he's got it right."
He explains further:
"Establishment Democrats and Republicans embrace free trade because it puts free markets first with benefits any decently trained economist should extoll. Unfortunately, trade with China and many nations is hardly market-driven," he asserts. "It hurts U.S. growth and victimizes America's families."
Economist Morici is a business professor at the University of Maryland, former chief economist at the U.S. International Trade Commission and five-time winner of the MarketWatch best forecaster award. (See his economic analyses.)
Consider the economic data on weak consumer spending and the tepid earnings reports by many retailers, the weak numbers on manufacturing, China's economic issues, and the low gas prices.
U.S. oil producers are going into bankruptcy because the Arab countries are flooding the marketplace with oil to dominate U.S. production for market share. The situation might worsen as a result of the horrendous Iran nuke deal pushed by President Obama that allows Iran to start selling oil again.
There'll be dire consequences for American consumers – if there are fewer domestic producers – making it possible for foreign countries to raise oil prices and extend their monopoly.
Plus, the average American workweek is less than 35 hours per week because too few Americans are gainfully employed, and there are many other challenges.
With his $10 billion in net worth and thousands of employees, no need to elaborate further here on who is best qualified to lead America.
2. Only Mr. Trump understands retail marketing.  He's employing classic marketing principles:
A) His campaign slogan is in the proven range of three to five words, "Make America Great Again!" Contrast that with his competitors – none has positive, memorable slogans.
B) He repeats his slogan often. For effective messaging in the 21st century, a frequency rate of five times is needed to persuade the average American.
Unlike Senators Ted Cruz and Marco Rubio, for example, Mr. Trump knows not to claim he's the "best Conservative."  He's more influential by his promoting a patriotic image than it is to proclaim he's the only candidate who can wear the label of "best Conservative."
His rhetoric most-effectively addresses the angry emotions of most Americans. He anticipated they'd like the idea of a temporary ban on immigrants from Islamic countries to sort things out.
Also, Mr. Trump realizes he has to attract a like-minded pool of voters over economic and national-security issues. Friends have told me their liberal friends from New York to California will secretly vote for a Trump ticket.
It's also been widely reported that he under polls because respondents to pollsters don't always tell the truth about whom they support.
"Make America Great Again" is a simple message. Its simplicity is reminiscent of one of the most-effective, political commercials of all time.
Mr. Trump nails this emotional concept – he says he'll save the country and will turn his companies over to his kids – voters love this.
He also has mega-media star appeal. He draws the biggest crowds of any candidate whether Democrat or Republican. At which he's asked for autographs and members of the audience like to take selfies with him.
3. Ethics and scruples notwithstanding, Sen. Cruz and other candidates don't understand marketing principles. With their adamant proclamation invoking the Conservative label, the candidates remind me of happened in the President Lyndon Johnson landslide of 1964.  
The Republican-ticket campaign slogan, "In your heart you know he's right," was too defensive.
Sen. Cruz has long been negatively branded – much like Conservative Barry Goldwater was labeled as an "extremist."
Conversely, members of the liberal media at MSNBC or CNN never miss a chance to interview Mr. Trump. Mr. Trump instigates topics to dominate the news cycles. He hasn't let others define him. He fights back.
4. Mr. Trump best understands the Electoral College system. It will be critical to get the maximum number of votes for each state in the Electoral College.
For a candidate to win, 270 electoral votes are required. 
In bragging he can win, there's truth to his assertion. Mr. Trump might even be Arnold Schwarzenegger-like to win California's 55 Electoral College votes.
Actually, with his middle-American following, he's positioned to make inroads with the other blue states and win the critical swing states.
Aside from his dubious win in Iowa, Mr. Cruz might win Texas and its 29 votes, but little else. He's been disappointing in claiming to be the best Conservative, but he's abandoned core Conservative values on ethanol and farm subsidies just so he can get a few votes in Iowa.
The news video of him changing his votes on those issues made him look disingenuous and opportunistic in a negative way.
Further, no Republican has ever won the presidency without winning Ohio. Aside from Ohio Gov. John Kasich, Mr. Trump is probably the only Republican candidate who could carry blue-collar Ohio and its 23 votes.
5. All the previous Trump candidacies were merely attempts to test the waters. In previous years when I criticized him for not being a serious candidate, I didn't believe he was committed to run.
But it occurs to me I temporarily forgot my own marketing mantra, "When in doubt – test, test and test."  Mr. Trump tested the political marketplace for decades. He fully understands Americans' anger and is capitalizing on it.
6. Americans love courageous, optimistic people. Patriotic voters are tired of President Obama's apologizing for America when apologies aren't warranted and his timidity on national security.
7. Never underestimate the value of long-life experiences. There's a lot we can learn from history. Mr. Trump's perspective of a 69-year-old displays a higher level of worldliness than the young candidates.
Mr. Trump's opponents have a flawed perspective. They underestimate him. They have no idea what they're up against.
When Mr. Trump refuted Sen. Cruz on the "New York values" issue and mentioned New York has been the home of Conservatives like William F. Buckley, it wasn't just about defending New York.  Mr. Trump was subtlety reminding us of his vast experience and intelligence.
Mr. Trump's rejoin was noteworthy in my eyes. In 1967 as a student journalist at Pepperdine College in Los Angeles, I interviewed the intellectual Buckley. My memory of Mr. Buckley reminds me of the value of Mr. Trump's rich background.
The year hasn't been made public but shortly thereafter, Mr. Trump borrowed $1 million from his father and began building his empire.
Soon, Americans were laboring in a recession, and then endured huge lines at the gas pumps and President Nixon's wage and price controls. Undoubtedly, Mr. Trump had a tremendous wealth of experiences before some of his opponents were even born.
He was already thinking about being President – he'd already started to build his foundation of credentials for the presidency. Meantime, first-term Senators Cruz and Marco Rubio were only about 5 years old.
So it's almost amusing that Sen. Cruz ridiculously continued to pontificate about "New York values." Ironically, Sen. Cruz's naiveté in belaboring it reminds me of the 1984 presidential campaign debate between former Vice President Walter Mondale and President Ronald Reagan.
"I want you to know that also I will not make age an issue of this campaign," said the Gipper. "I am not going to exploit, for political purposes, my opponent's youth and inexperience."
As for the lady on the cell phone, she was right – an election of Mr. Trump will help make America great again.
From the Coach's Corner, related reading:
Terror – 2 Democrat Presidents Provide Lessons for Obama — Presidents Franklin Roosevelt and John F. Kennedy, both Democrats, won wide respect for their handling of monster threats to America. Plus, both presidents did not hesitate to identify the enemies, call them out on their lies, and to take decisive action. Why President Obama's political correctness threatens America's free-enterprise system.
Are We Doing Enough to Cherish Memory of 9/11 Victims? — If we really want to cherish the memory of the 9/11 victims, we're falling far short of the goal. Why? We're not doing our best to prevent more victims of terrorism for two reasons.
Why a 1960s' Beatles Protest Song is Still Relevant — Have you ever wondered why British groups like The Rolling Stones, The Who and The Beatles spent so much time touring abroad? To sell music for sure, but there's another reason: Abusive taxes.
Trusted News Organization Blasts Obama Administration over Continuing Censorship — One of the world's most-trusted and largest news reporting services warned about censorship imposed by the Obama Administration. It was the organization's second warning in 2014. Ignoring the public's right to know is a serious accusation, especially from the Associated Press.
Memorial Day: What Would Abraham Lincoln Say Today? — Memorial Day is a holiday to remember the armed forces' men and women and why they died to protect our freedoms. What Honest Abe would say today. It's been well documented that Abraham Lincoln is the political idol of President Barack Obama.
"It has been said that politics is the second oldest profession. I have learned that it bears a striking resemblance to the first."
-Ronald Reagan
 _________
Author Terry Corbell has written innumerable online business-enhancement articles, and is a business-performance consultant and profit professional. Click here to see his management services. For a complimentary chat about your business situation or to schedule him as a speaker, consultant or author, please 

contact Terry

.




Photo courtesy https://commons.wikimedia.org/wiki/File:Donald_Trump_by_Gage_Skidmore.jpg
Feb. 28, 2010
In trying to solve a $2.8 billion budget shortfall, Washington state lawmakers have been debating the wrong issues. Instead of debating whether to increase the sales tax or to eliminate tax exemptions for industries, lawmakers would better serve voters if they dealt with the core issue.
The core issue: Developing a healthy economic climate with public policies that help – not hinder creation of private-sector jobs.
Most businesses have had to significantly cut payroll – 175,000 jobs were lost in two years. However, instead of being good stewards of taxpayer assets, many public officials are frantically looking to spend money and generate more tax revenue. The only jobs the state helps to create are government jobs that exacerbate the economic climate.
Worse, state pensions are 74 percent higher per person compared to the private sector. And the Legislature has failed to fund at least $7.9 billion in healthcare and pension liabilities – a financial time bomb set to explode.
Thirty percent or more of your business headaches are caused by onerous government regulations and taxes.
These and countless other issues hurt the economy.
However, there is hope. At the grass roots level, Enterprise Washington (EW) is an organization effectively clearing the air. They know a strong economy will create jobs in a way that helps the environment.
In essence, the EW folks understand the core issue, and they are recruiting and helping business-friendly candidates get elected to office. I recently met with the group's principles at their Issaquah office and walked away with favorable impressions. And what's really neat is that they understand it's important to be open-minded. They recruit both Democrats and Republicans.
It was refreshing to hear the insights of EW President Erin McCallum.
My sense is that you'll want to know more about EW. Here are Ms. McCallum's answers to my questions:
Q: What is your success rate?
A: Since EW's formation in 2007, there are seven more business-friendly lawmakers in Olympia.  
Five GOP include: Sen. Randi Becker, Reps. Kevin Parker, Jan Angel, Bruce Dammeier and Terry Nealey.
Two Democrats: Reps. Reuven Carlyle and Scott White.
EW was instrumental in five of the seven victories (Becker, Parker, Angel, Nealey and Carlyle).  
In each of these races, EW either identified and recruited the business person or ran a significant independent expenditure campaign that helped educate voters about the candidate who was the stronger champion of the economy and the health and sustainability of Washington's private sector.
Q: How would you describe your mission?
A: Recruiting, training and electing business-minded state lawmakers. 
Q: You have different organizations under your wing?  
A: Yes we do. EW, the mission is described above and EW's Jobs PAC which is a 527 political action committee.   There is also a legally separate 501 (C)(3), charitable organization called Business Institute of Washington. It is an educational resource for our communities that helps Washingtonians gain a stronger understanding of the significant role our lawmakers play in establishing laws that govern our state. 
Q: Please describe how they're structured cohesively.
A: EW is legally organized to influence the outcome of elections in key districts (C-6, membership organization, and a 527 political action committee). EW has established these separate entities to accommodate the different reporting requirements for various political expenditures.
As a result of the economic downturn and what a majority of the public sees as government spending run amok, the current political climate is favorable for pro-business/anti-tax candidates.  Business has an opportunity to capitalize on this shifting political climate during the 2010 election cycle.
Q: Briefly, what is the history of your organization?
A: EW grew out of an old business political action committee, United for Washington. We developed our business model using best practices from business communities in other states, and taking examples from currently successful players in Washington state politics. 
Our research has unveiled that successful special interest groups in Washington state have not been friendly to private sector business for some time.
Q: How would you describe the state of politics in Washington?
A: The political stage was set many years ago for what's happening in Olympia and state government today. For decades, special interest groups outside of the business community have worked tirelessly in recruiting candidates who will champion their issues and helped get them elected.  Our state's current political climate augurs opportunity for pro-business candidates – Democrat and Republican, alike. And with the new top two primary, business-friendly Democrats are viable again.
Here are some examples of how other special interest groups operate in our state, and how the private sector community has assisted in bringing them to power:  
Organized labor has done an incredible job in helping to elect candidates to champion their issues in Olympia. Organized labor, with SEIU largely driving the effort, has been effective in politics by winning one race at a time. Their efforts have paid dividends for them on shaping public policy.
Other special interest groups such as the Trial Lawyer Bar, WEA, Firefighters, etc., make sure contributions get funneled to close races, usually to Democrat candidates. When business contributes to both parties (often to gain political access) a significant portion of contributions made to Democrat leaders are transferred to competitive races and used against pro-business candidates. Organized labor has been able to rely on a pro-union majority in both the House and Senate to protect its interests.
Q: How many members or supporters does your organization have?
A: EW currently has about 250 members representing businesses from all across the state in a broad range of industries. This year, we are currently in a drive to double our membership.  Any of you who are business owners and who care about the future of our state, please join us by visiting www.enterprisewashington.org and become a member.
Q: A lot of voters think of business-oriented people as Republicans-only, but you have the vision to be nonpartisan.  Please describe how and why you decided on the nonpartisan approach.
A: Business issues do not necessarily cut clearly across political party lines. Also, given our state's demographics and increase in population, we recognize that voters in this state are fiscally conservative, socially progressive. With Washington state's two political parties tending to lean more to the extreme we look for balance and middle ground.
Q: What's your criterion for a political candidate? 
A: Our state is quite diverse, so the ideal candidate can vary quite a lot depending on the location of the district. Having said that we are looking for business people, both employers and more likely employees, who have strong experience in the private sector and can bring their expertise to the state lawmaking process.
Q: What's on tap for your association?
A: We are in the midst of a $1.6 million campaign for Washington's private sector and invite everyone in business in this state to get engaged through EW membership. Unlike public employee unions that can collect political contributions through the monthly dues process, EW must appeal to the greater business community, those who have the most at stake, to make our programs succeed.
Please go to www.enterprisewashington.org and become a member today! Through membership, you can help elect more business minded state lawmakers who will understand and support public policy that supports private sector jobs.
Q: What else would you like to add?  
A: The business community has a choice to make: either get involved and help elect more business friendly lawmakers or face steeply higher taxes. EW is the only organization in Washington state that is tackling the political landscape with the goal of making significant positive changes to the makeup of our state legislature.  Democracy is not a spectator sport so join EW today! Having strong elected lawmakers who understand that it's the private sector that creates jobs and turn builds healthy and happy communities.
From the Coach's Corner, here's more on upcoming state-government developments:
To identify state efficiencies and savings, Washington State Auditor Brian Sonntag has announced his performance audit work plan.