June 12, 2017-


An innovative solution has been unveiled to solve a big economic conundrum.
The conundrum:
A big schism exists between what employers need in worker skills but millions of people either can't get a family wage job and or work a full 40-hour work week.
Even though the unemployment rate is a low 4.3 percent, employers complain they have 6 million unfilled jobs because of a huge skills-gap among jobseekers.
In addition, the average American workweek is only 34.4 hours. Underemployment is a chronic problem for Millennials and seasoned workers.
Underemployment exists when a worker has a job, but his or her work hours and/or pay levels are too low.
Forty-six percent of respondents to a 2016 Payscale.com study said they were under-employed. Fifty-one percent of Millennials complained of under-employment in a 2016 Accenture report.
To be sure, lack of education plays an important role. But even college-educated workers are suffering. Many had the wrong majors that won't lead to good jobs.
A college degree is not a guarantee of career success. Millennials are learning at an early age that they need to be flexible and strategic in their choices.
3 issues for employers
The Business Roundtable, an association of chief executive officers of top U.S. companies, reported many jobs go unfilled because workers lack skills needed for the 21st century.
As it is, the roundtable-member companies employ 15 million workers and have $6 trillion in annual revenue.
"As employers, we know that America's economic growth is directly linked to the skills of today's workers. Unfortunately, the skills of many job applicants and existing employees have not kept up with the requirements of current and future jobs," said Wes Bush, Chairman, chief executive officer and president of Northrop Grumman Corporation and Chair of the Business Roundtable Education and Workforce Committee.
In a press release, the roundtable cited employers' three challenges:
A lack of individuals with fundamental "employability skills," such as the ability to use basic math, communicate effectively, read technical manuals, work successfully in teams and participate in complex problem-solving.
Seventy-five percent of responding CEOs indicated that fundamental math, reading and writing skills are important.
Fifty percent of them are having difficulty finding qualified applicants with these skills.
2. A lack of workers who have the specialized skills needed to fill many trade positions.
Forty-four percent of responding CEOs expressed difficulty finding qualified candidates for at least one skilled trade occupation.
3. A lack of applicants with the science, technology, engineering and math (STEM) skills needed for many of today's jobs.
Cybersecurity, data science, robotics, software and computer science engineers were among the most difficult positions to fill with qualified candidates.
Economic solution
To combat the underemployment issue and to return to 4 percent annual economic growth, the Trump Administration is pushing to create 25 million new jobs.
President Trump is employing a tactic in which he succeeded as a reality TV star and real estate magnate – he's embarked on a campaign to create apprenticeships.
How?
He is encouraging workforce training partnerships between among companies and schools. That includes programs in which Americans learn skills from seasoned workers while earning a paycheck.
But he'll do it without spending vast sums of taxpayer dollars. He's pushing for effective training programs and for the private sector to create apprenticeships.
"The reality is that there are still Americans seeking employment despite low unemployment rates and companies are struggling to fill vacancies that require various levels of skills and training," said Ivanka Trump, the president's daughter and one of his advisors.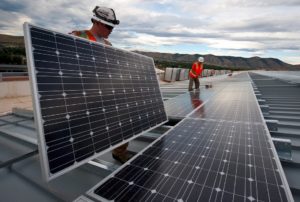 She said her father's administration challenges Congress "to pass reforms expanding apprenticeships and raise awareness about the fact [that] there are important, very viable career paths outside of the traditional four-year college experience."
Many of the 6 million unfilled jobs are in healthcare, information technology and manufacturing according to Labor Secretary Alexander Acosta.
He indicated less than 0.2 percent of workers have been in apprenticeship programs. However, 90 percent of those who worked as an apprentice got a job at that paid an annual average of $60,000.
Hmm. Really?
The Trump Administration apprenticeship-initiative sounds pretty good. It works for me.
From the Coach's Corner, here are related public policy solutions:
Why President Trump's Growth Budget, Reforms Matter — Deficit-spending and the resulting massive debt severely damages America's economic prospects and hurts each American. But a disciplined approach will make America great again — by shrinking the national debt and implementing other needed reforms.
How Bad Policy and Journalists Hinder Economic Prosperity — The nation's economy will strongly improve if we capitalize on lessons in common-sense economic-growth policies from two late presidents.
Lessons in making a career change
If you need to re-engineer your career, my counsel for you is to ask three questions:
What are your abilities? What do you love to do? What's keeping you from career success and happiness?
On a personal level, I worked my way through college at various jobs with an emphasis in broadcasting. My goal was broadcast journalism but initially I could only get disc jockey jobs.
After college, I broke into journalism but later faced recessions and corporate downsizing. While being in-between on-air journalism jobs, I found myself working in various industries as a salesperson and worked my way up into management.
My career challenges continued in the 1980s. Having to work outside journalism was embarrassing to me as it was still common for most Americans to work in the same job for decades.
So with the help of mentors, I did some reflection on my career strengths, weaknesses, opportunities and threats.
Embarrassed by my myriad of experiences in several industries, I continued to work and learned to keep an open mind to consider new opportunities.
After becoming an award-winning and top-rated radio journalist, I became bored and realized I wanted bigger career challenges.
Ultimately, I learned that my skills and interests were in entrepreneurship and strategizing to solve problems. I began to look for new opportunities.
So I pitched an idea to a CBS executive in Los Angeles.
The CBS executive, George Nicholaw, reacted to my resume: "My, what a rich background."
His comment taught me a very important lesson – to be proud of every one of my career experiences. Meantime, with his surprising compliment, I continued with my presentation and got another big surprise from him.
"That was the best presentation I've ever received," Mr. Nicholaw announced.
"Do what you love to do and give it your very best. Whether it's business or baseball, or the theater, or any field. If you don't love what you're doing and you can't give it your best, get out of it. Life is too short."
-Al Lopez
__________
Author Terry Corbell has written innumerable online business-enhancement articles, and is a business-performance consultant and profit professional. 
Click here to see his management services
. For a complimentary chat about your business situation or to schedule him as a speaker, consultant or author, please 

contact Terry

.
Unhappy Millennial photo by David Castillo Dominici at www.freedigitalphotos.net